TechCast's study of mis/disinformation leads us to this broader focus on studying the Cognitive Roots of Conflict.
The table below maps various thoughts regarding climate change – the biggest crisis of our time. Entries are noted attitudes defining the Crisis and the Status Quo, highlighting the differences that have blocked action for decades.
Cognitive Maps have become the very heart of AI. To understand and automate some human activity, we first have to define its components, how they interact, and the goals. We have to map the cognitive terrain.
These data, beliefs, and other thoughts are organized along the cognitive scale of 9 functions identified in our AI vs Humans study. It's not perfect, but a sound framework out of our TechCast Expert work.
If this study proves useful, we could expand it to include other intractable conflicts — abortion, gun control, inequality, immigration, etc.


Cognitive Map of Climate Change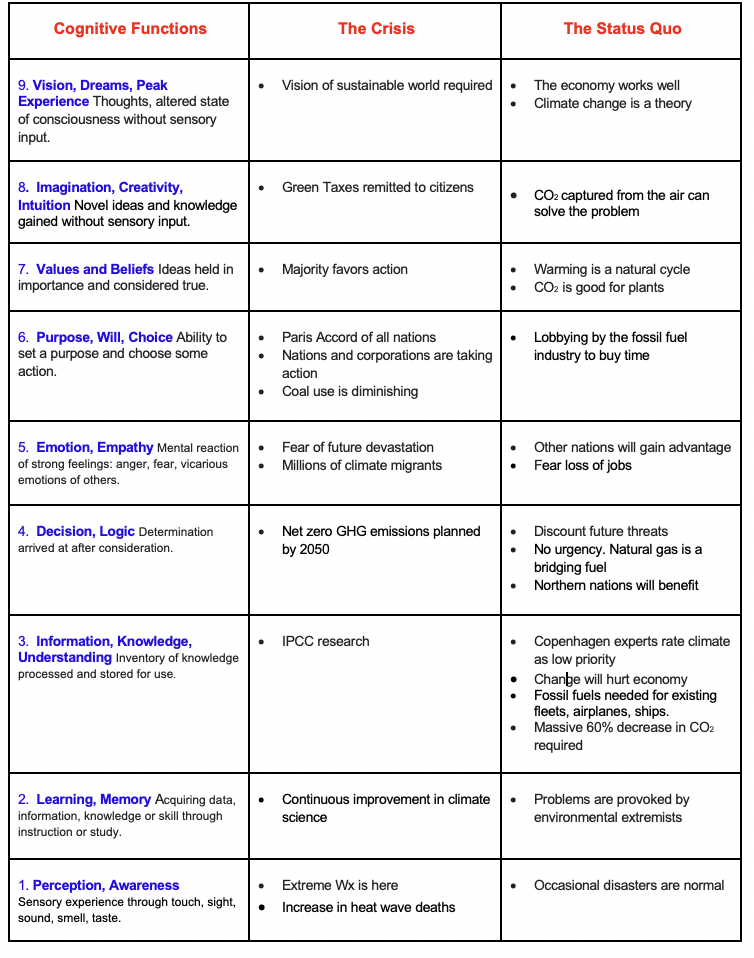 The following analysis suggests provocative strategies that could resolve this conflict.
Analysis  of the Cognitive Map
9. Vision  Thoughtful, plausible, and inspiring visions of sustainable futures may help resolve the climate problem. If done well, especially with the participation of those opposed, some hearts and minds are likely to soften to grasp that a better world is possible.
8. Imagination, Creativity  We certainly could benefit from a healthy dose of creative thought to bolster a sustainable vision. 
7. Values and Beliefs  This function may be the nub of the problem. How to recast the diehard beliefs of climate deniers? Some will never yield, of course, but an honest engagement with those holding opposing belief systems could possibly shift opinion toward reality, especially if supported by compelling visions and the hard facts further down in this table.
6. Purpose, Will, Choice   Noting the actions being taken by governments, corporations and communities should have desirable impacts on overcoming resistance.
5. Emotion, Empathy   If those doubtful about the need for change could witness some of the enormous tragedies possibly ahead, a change of heart and mind would make a difference.
4. Decision, Logic     This cognitive function demands a great deal. How can we engage people in realistic problem-solving experiences that weigh the evidence to reach sound conclusions for change? 
3. Information, Knowledge, Understanding   See above. These are major basic elements needed to reach sound choices.
2. Learning, Memory   Better processes and information sources are needed to break through misunderstandings to gain accurate knowledge. 
1. Perception, Awareness  The very source of experiential life. What could creative simulations of the disasters lying ahead possibly do to shift awareness? Visits to locales actually experiencing climate shift?  Meeting those who have taken action?
Three Alternative Scenarios
A useful outcome of this study is to examine scenarios of various strategies and their outcomes at about 2030. While endless scenarios are possible, TechCast proposes the following 3 scenarios that seem to capture the most dominant variations:
Anticipate the Crisis 
Proponents of resolving the climate crisis moved quickly to resolve the problem and revert to the pre-fossil fuel era. They invited opposition leaders to visit locales with unusually heavy floods, wildfires, scorching heat, drought, and violent storms. They spoke with people who were suffering, change advocates, city governments and business leaders. They examined a variety of information sources to break through misunderstandings and gain accurate knowledge of the even bigger dangers ahead. 
Some opponents would not yield, of course. But, after engaging all these different parties in participative discussions and problem-solving, along with a dose of creative thought, people reached their own conclusions about remedial actions that would solve the problem with desirable impacts. A compelling vision emerged finally that most agreed would lead to a healthy and sustainable world. 
Meet the Crisis
The mid-2020s proved critical as climate change grew more severe, leaving parts of the southern US, Middle East, Africa, and Asia uninhabitable. The resulting economic disruption caused the global depression that had long been feared as national debt reached stratospheric levels. Climate-change refugees fled to northern regions, cities like New York City struggled to subdue chronic flooding, much like Venice.  Public riots soon forced politicians to take serious steps to curtail CO2 emissions.
Forecasts for the coming years were even more severe, creating a global shift of opinion to resolve the climate crisis. Fresh ideas and new leadership emerged to rally a movement to "Create a Sustainable World."  Beliefs flipped as former climate deniers found faith in Nature, and environmentalists accepted the need for economic reality. Green technologies and environmental research were shared around the globe. A universal green tax was adopted, with revenues to be returned to taxpayers. And with millions of high-tech jobs opening in environmental work, the global economy entered a period of clean growth. It is estimated that "peak CO2" or "peak warming" was likely to be reached about 2034. 
Stall On the Crisis
The same environmental threats as above took place, but the comfortable path of muddling through prevailed.  The onset of more heat, drought, wildfires, floods and violent storms was devastating, but opinion remained divided, so there was insufficient political will for serious change. The global economy suffered with lost jobs, rising poverty and lesser social services. The professional and wealthy classes maintained the bulk of national income.
People tried to adapt in various ways. Some left southern regions as they became uninhabitable, so Canada, Nordic nations, and Russia boomed in population. To fend off excessive immigrants, some countries built borders walls to limit their passage. Investments were poured into green energy, carbon capture, and geoengineering, although it was too little too late. Climate decline continued, fed by big increases in air conditioning and other attempts to stave off the heat. This created a positive feedback loop that increased CO2, merely accelerating the impending shift in climate. 
For a final note, it is important to recognize that the dominant issues blocking action on climate involve subjective forms of thought (5-9) rather than objective thought (1-4). Objective thought (knowledge, logic, etc) is crucial certainly. But the main reason nations are unable to resolve the issues of our time is that action is blocked by subjective consciousness (emotion, purpose, values, beliefs, vision, etc). This conclusion illustrates the central thesis of Bill's new book, Beyond Knowledge, which follows. Ignorerisis